Experience the vibrant allure of urban living at its peak with The Marlowe. Step into a world where every detail resonates with sophistication, as we present the epitome of contemporary 1-bedroom apartment living, embracing a verdant oasis at its heart.
Within your abode, luxury melds seamlessly with convenience. Revel in the comfort of personalized climate control, and bask in the gleam of stainless steel appliances that await your culinary adventures. Enormous windows frame your surroundings, inviting natural light to dance within. As you explore further, you'll be captivated by the artful nuances that grace every corner, from the chic ivory cabinets to the glisten of chrome hardware. A ceramic backsplash, akin to a canvas, and a vessel sink are masterfully integrated, exuding elegance at every glance. Recessed lighting casts an enchanting glow, completing the scene.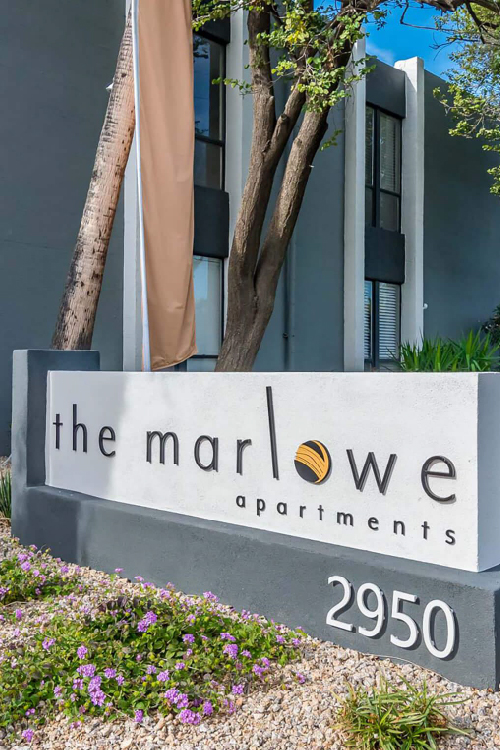 Nestled on a tranquil lane adjacent to East Thomas Road, a world of possibilities unfolds. Venture effortlessly to Scottsdale's allure, embrace Arcadia's charm, and relish in the tapestry of dining and shopping that central Phoenix unfurls before you. From the allure of Essence French Bakery to the craft of Helio Basin Brewery, from the vitality of The Madison Fitness Club to the allure of an idyllic poolside haven with complimentary WiFi, you are poised to indulge.
Enjoy the convenience of the community's 24/7 Amazon Hub parcel center, revel in the convenience of designated covered parking, and be enticed by our hospitality that extends to your cherished four-legged companions of all sizes. The Marlowe isn't just a residence; it's a symphony of urban splendor where every moment resonates with the promise of a vibrant life.